Byrd Automotive Repair, Nicholasville's Best Auto Repair Services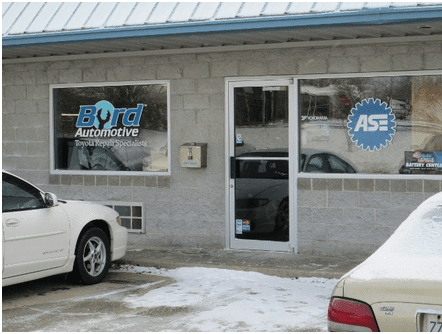 Byrd Automotive Repair has provided Nicholasville and the surrounding area with five-star auto repair since 2002. We provide reliable, high quality auto repair services to our customers at affordable prices. Call today to schedule an appointment at 859-885-9121 or come by the shop at 116 Patton Ct in Nicholasville, KY.
Convenient and Quick
Your time is important! That's why our goal is to perform maintenance services and any needed repairs as quickly as we can. Most truck or car maintenance services can be performed within minutes or hours. Repairs can often be completed on the same day. Whether it's a complex repair or an easy one, our mechanics will get it done quickly and get you back on the road. We are also conveniently located near Nicholasville, KY. Call today to schedule an appointment at 859-885-9121.
How Much Will It Cost?
Communication is important, which is why we emphasize providing you with a straight-forward estimate before beginning any repairs. We will continue that communication all along the way. You can always ask us about options to keep auto repair cost low or discuss upgrades with one of our mechanics to keep your car running at peak performance. We want to know what your goals are for your vehicle so that we can help you meet them. We stand behind all of our work with a guarantee you can take to the bank.
We Will Take Care of You and Your Vehicle
It's our mission to provide the Nicholasville area and its communities with reliable, affordable automotive maintenance and repair services. You will not find the same level of professionalism and service that our auto mechanics provide anywhere else around town! Our highly trained auto maintenance and repair specialists will provide the best service in Nicholasville on your vehicle.
Call today to schedule an appointment at 859-885-9121 or email us.
Discover What We Do!
4x4 Services, AC Repair, Brakes, Car & Truck Care, Domestic Cars & Trucks, Electric and Hybrid Vehicle , Electrical Services, Electronic Services, Engine & Transmission, and Engine Maintenance
Byrd Automotive Repair offers auto repair services you can count on!
Vehicle
tips
Always use a detergent designed specifically for car washing. Don't use common dish washing detergent which is too strong and will remove the wax.
Testimonials
Chris Dunagan

, 11/25/2023
Wilmore / Nicholasville / Lexington area friends, this is a shout out to Byrd Automotive in Nicholasville. They are honest. A few years ago, a used car we bought developed an expensive problem long after the regular manufacturer's warranty expired. Byrd Automotive could have charged us nearly $3K to fix it, but instead, they told us about an extended warranty campaign from the manufacturer for that particular issue for a dealer to fix it for free. Then, when one of the local Toyota dealers botched that repair job by failing to secure a snap ring holding an axle in the transmission, Byrd diagnosed that problem too, brought me back into the garage to show me what the dealer did wrong so I could take pictures while the car was up on the rack to show the dealer, and Byrd didn't charge me a dime for that help. I could tell you other stories of Byrd Automotive's help with our vehicles. The bottom line is they are honest, determined, competent, qualified, and reliable. Even with hard jobs on old vehicles (one time a rusted part on a seventeen year old truck broke one of Hayden's tools, but he still found a way to get the job done), they never let us down. The guys at Byrd Automotive are Toyota specialists with walls full of factory training certificates. I would trust them with anything, and especially if you drive a Toyota, they know more about your Toyota than the dealers do and even do their own research. I'm posting this now because even years after we moved to Ohio, I still call occasionally with Toyota questions and Gene, Cameron, and Hayden are always happy to help by sharing what they know. If you need a mechanic in the area, especially for a Toyota, Gene, Cameron, and Hayden at Byrd Automotive are rock solid, trustworthy and dependable. I appreciate them and wanted you to know about them.
view all reviews